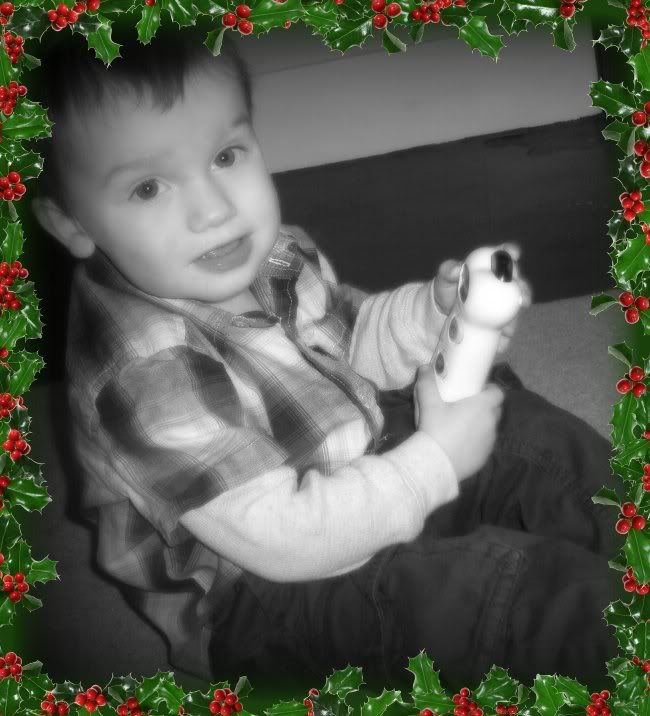 This Christmas was so much fun! Mathew is old enough to really interact with family and figure out toys and play, play, play! Christmas eve was spent with James' dad's side of the family so we all headed to Port Orchard to Great Grandma and Grandpa Woods house. This year the weather was much better, there was no snow on the ground and it was actually sunny all day! I have to admit I do love snow on Christmas, but with the mess it caused last year it was really nice to be able to drive places worry free!
Once we arrived at Grandma and Grandpa's all the family was there and after a few minutes Mathew was off playing and saying hello to everyone! He LOVES LOVES LOVES babies so little Keagan was his buddy all night! Any time he cried Mathew was all over it seeing if he could lend a helping hand! When it came time for opening presents I was hoping this year Mathew would be more into actually ripping off the paper and seeing his gifts...nope. He still wants nothing to do with opening the presents but he doesn't hesitate to play with whatever toy is inside! Mathew got his first Craftsman Chainsaw, books, clothes, a remote control car and much more! Mommy got some much needed drawer organizers-THANKS DAN AND AMY! They work really well!!!! We all got many wonderful things and are so so so grateful for everything! We are really lucky to be apart of such a wonderful loving family! Here are some pictures of our wonderful evening!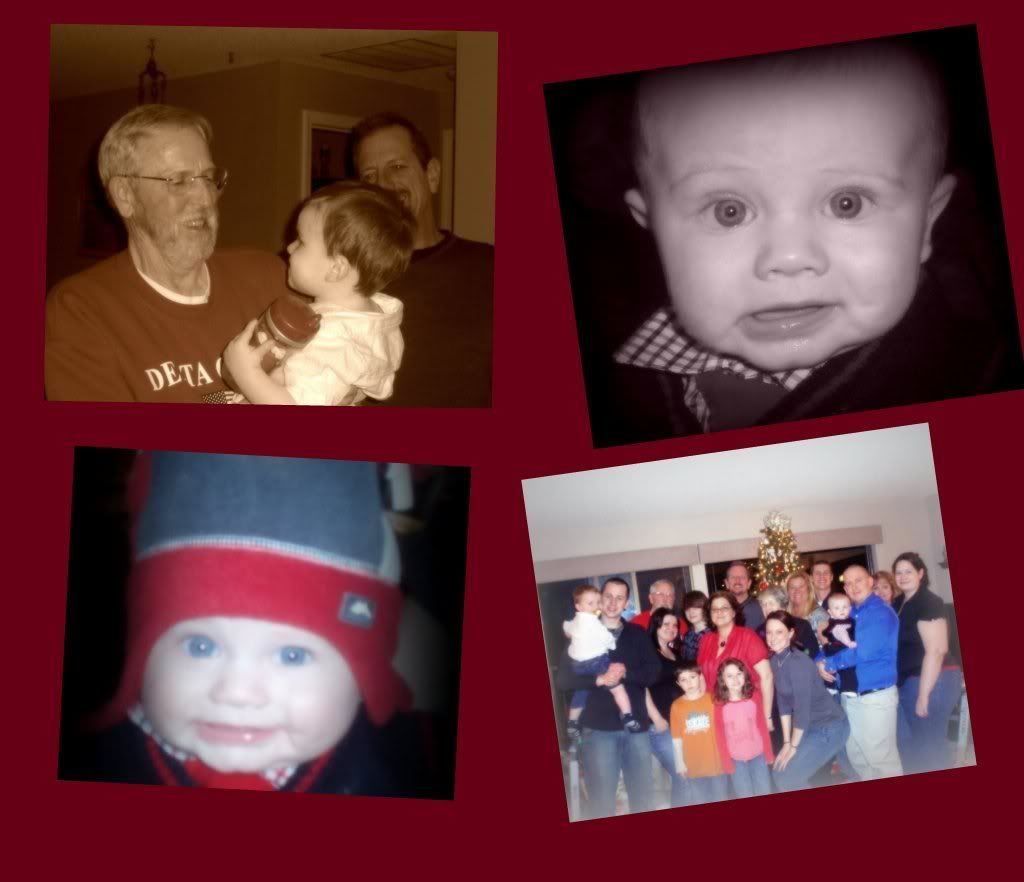 We then headed to James' mom's house so we could spend Christmas with Grandma Linda, Daddy, Uncle Daryl, Aunt Lacee and baby Keagan. Linda has a nice hot tub so of course I had to take advantage of that while I was there, ahhhhh it felt so nice! Christmas morning Linda made her yummy breakfast! It's become a tradition, three years in a row and it just keeps getting better! I was really excited for Christmas morning, James and I stayed up to put together a tricycle my dad got for Mathew! It was sitting by the tree all shiny Christmas morning and of course Mathew saw it right away and had to hop on! His legs are too short to reach the pedals but James pushed him around the living room and he was happy as could be! About half way through the morning Keagan got pooped and fell asleep on the couch , he's such a handsome baby boy!
This year any large bag lying around or box was much more amusing than any toy! It's funny what will entertain a two year old, if we would have known this we could have saved a lot of money on gifts lol! Mathew got lots and lots of toys from Grandma Linda! He got a really cool roller coaster, a little pretend (almost real) cat, a little doggie, a cell phone, and more! The roller coaster is so awesome! I've never even seen one of these, it's really sturdy and safe! After a few times going down with help he was doing it on his own! Towards the end he was even going down with no hands!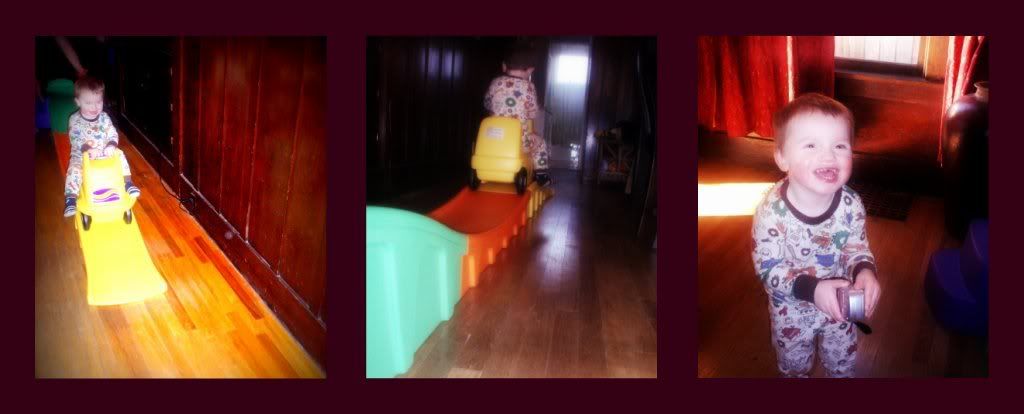 This Christmas we were so incredibly blessed! I couldn't ask for a a better family! I'm so grateful for everyone in our lives! I wish my family in Utah were closer so we could have seen them too. We've been lucky enough to see everyone throughout this entire holiday season and for that I am one happy girl! We hope you all had a wonderful Merry Christmas too!